A fixture on the Hiroshima coast of the Seto Inland Sea, Tomonoura for centuries was a major trading port and docking bay, most famously used as a hiding place for the famous samurai in Japan Sakamoto Ryoma. But this strategic geography has brought more than maritime commerce and famous rebels to the seaside town's shores.
Poets and painters have often traveled to Tomonoura to take in its stunning vistas and island-spotted seas, capturing the natural beauty of Japan's Setouchi Region in their work. There is more than one place in town to appreciate the coastal landscape long admired by these artists, but if you ask local townspeople there is one that stands, literally, high above the rest.
---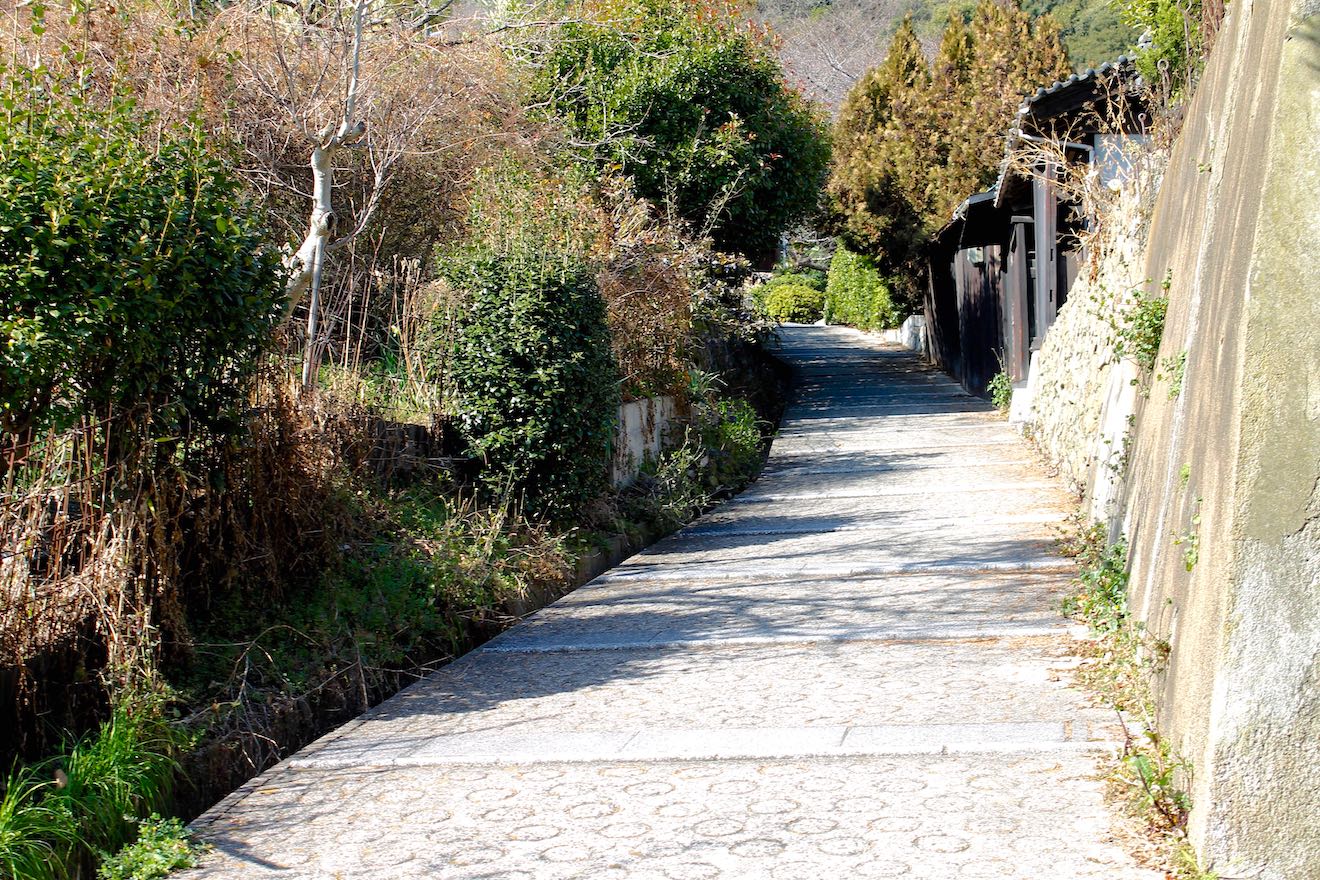 Hiking to Ioji Temple
Like any great lookout point, Taishiden's view is earned with a hike. The climb begins on the approach to Ioji Temple and while it is far from an advanced hike, I did manage to break a sweat. A paved trail leads discretely through the harbor district past local residences and up the foothills behind town. Named Omotesando, this road shares little resemblance to the high-fashion shopping district in Tokyo, taking your breath away not with elaborate window dressing, but with an incline that dares you to wear Louboutin heels.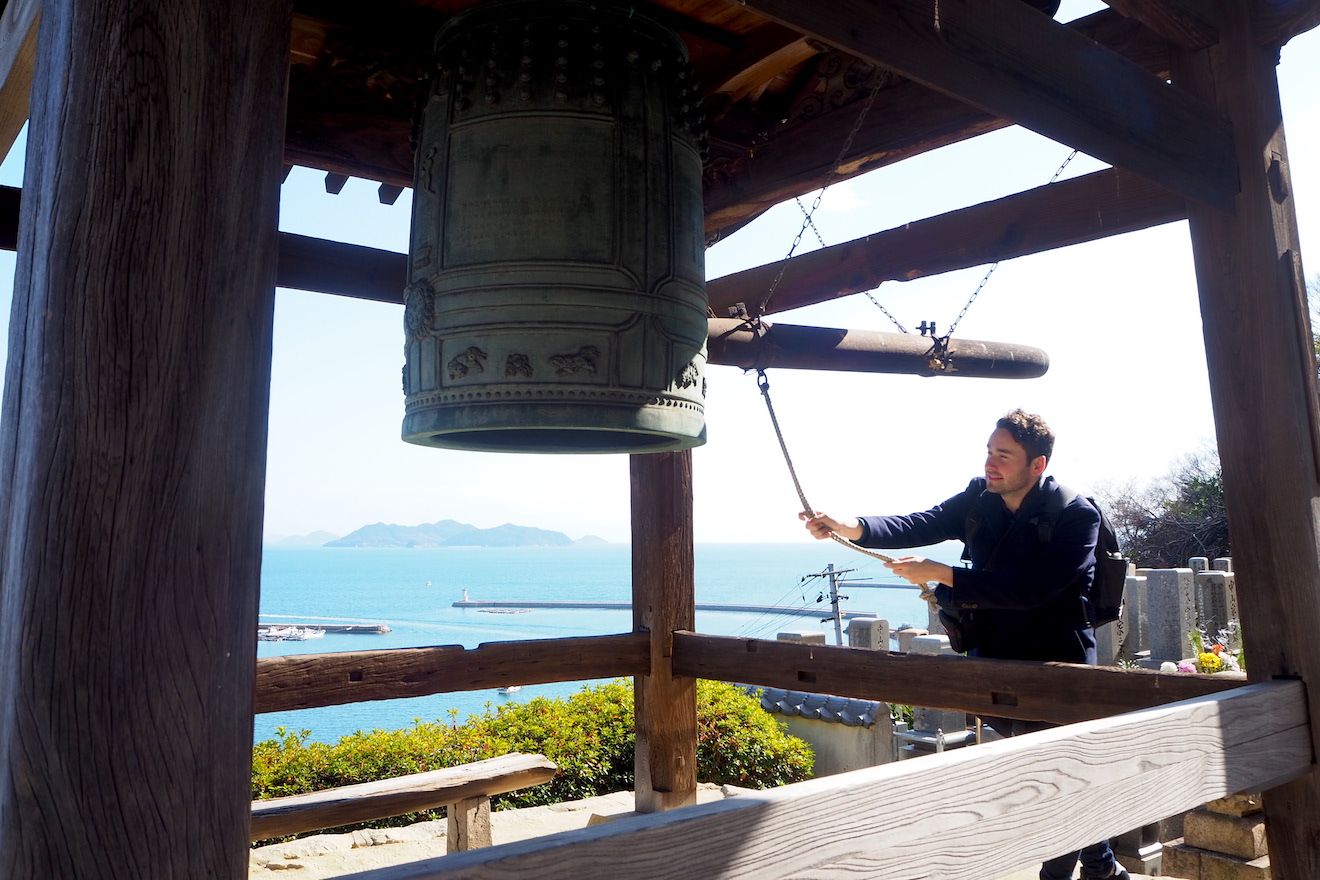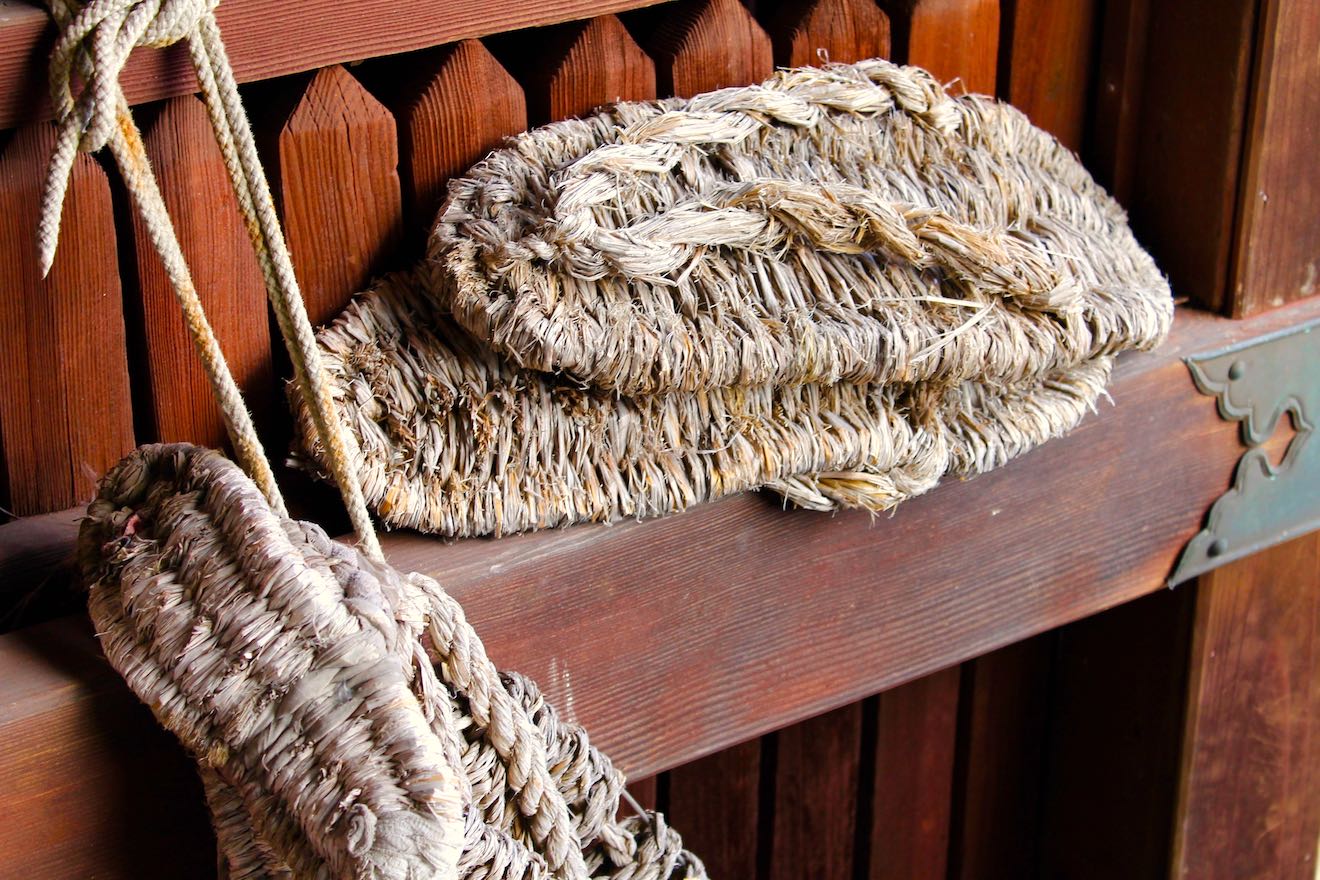 Just when I started to question whether I'd have the endurance for a full hike at this gradient, the path flattened out. We had reached the sanmon gate for Ioji Temple, which sits above Tomo Port nestled into one of the town's forested mountains. A Buddhist bell tower and main temple building both date back to the 1600s and can be appreciated alongside the view of boats navigating the bay. Passing through the grounds, I also noticed handwoven warazori (traditional sandals made from rice straw) hanging from the walls of the sanmon gate.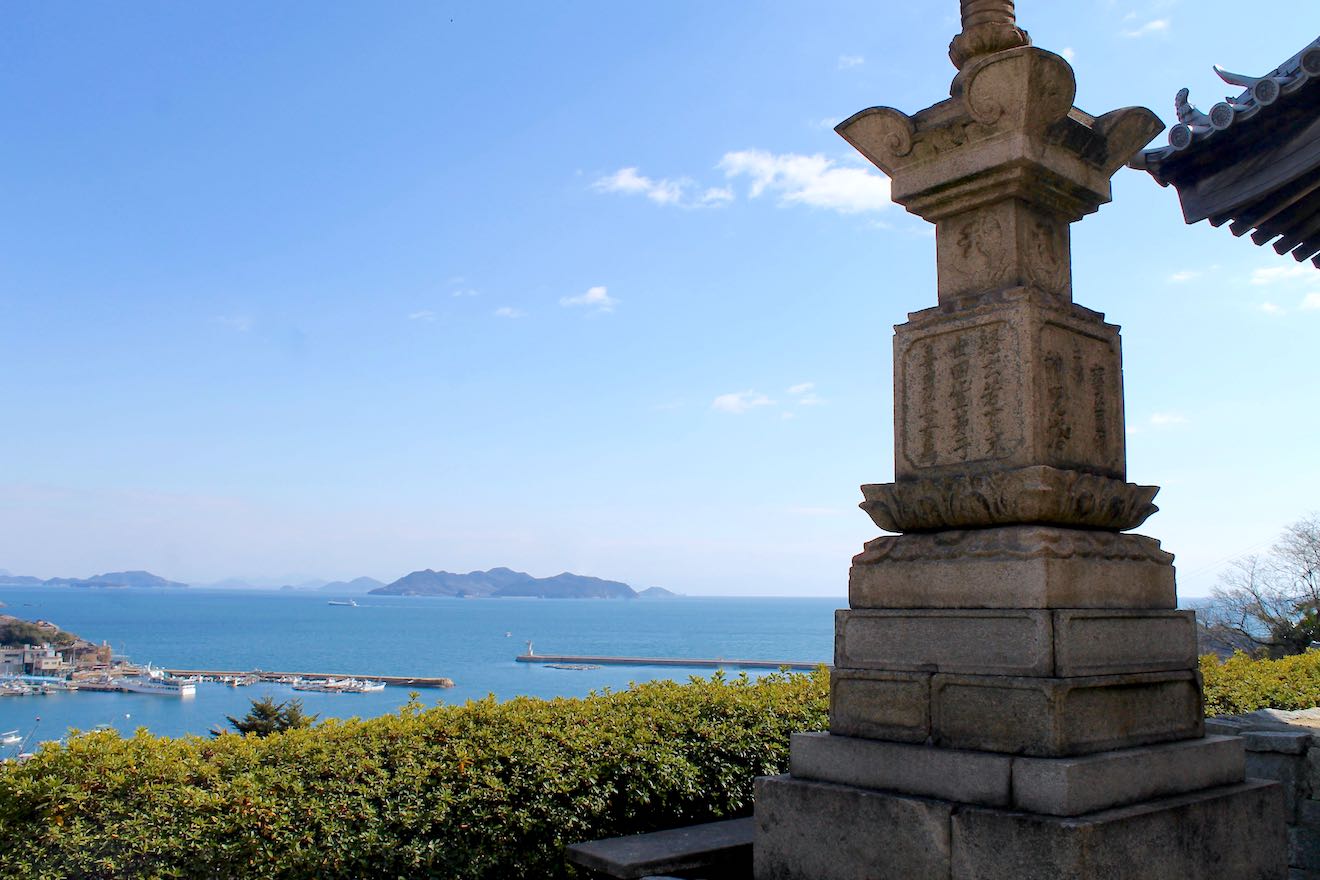 Taishiden's Stunning Seaside View
I found myself taking in the port-side view from Ioji's bell tower, content, satisfied with this scene of bustling maritime life set against beautiful blue waters. That was before it was explained to me that the hike had just begun. To reach the payoff point, Taishiden, you'll need to climb the stone steps that start at the backside of Ioji's temple grounds, continuing your ascent up Mt. Ushiroyama.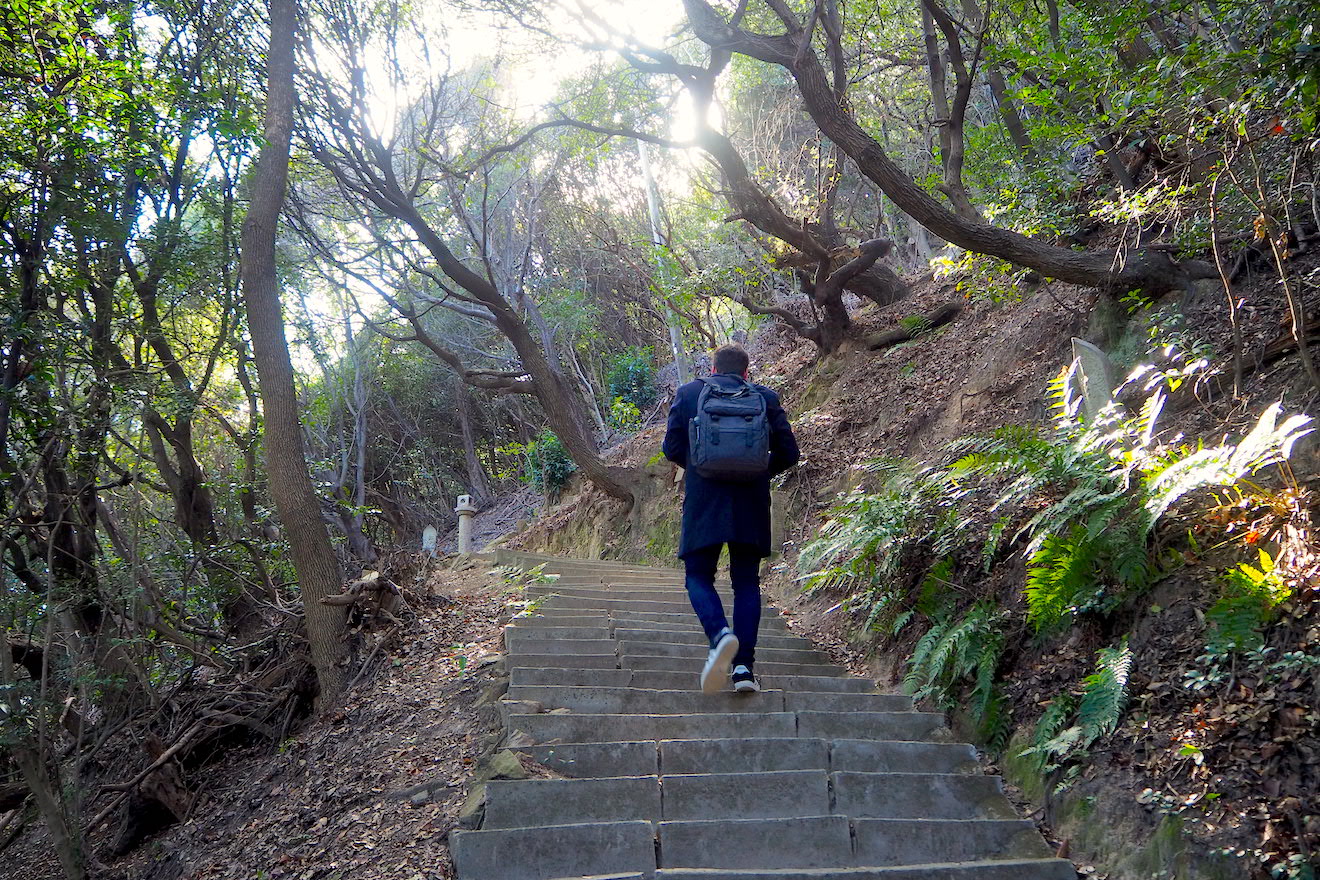 In total there are 583 steps from Ioji Temple to Taishiden and while this portion of the hike only took 15 minutes, the numbers marking each step had me counting up with building anticipation. When we finally arrived at step 583 I was more than ready to take in the surrounding scenery.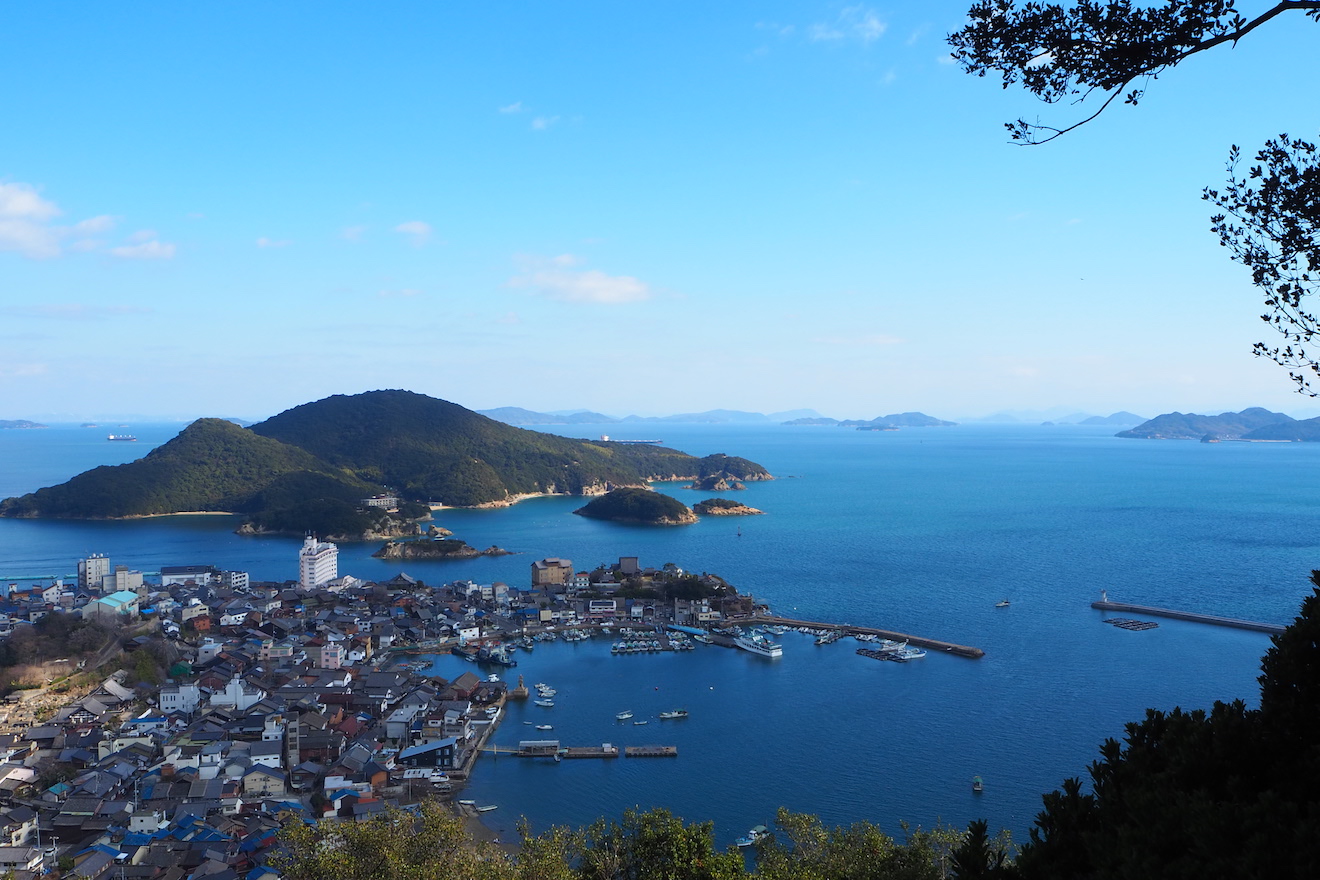 At Taishiden, a small wooden shrine peers out from an opening in the forest canopy to reveal all of Tomonoura's half-moon bay. Sensuijima Island in centered right off the coast of town with the waters of the Seto Inland Sea extending out on all sides.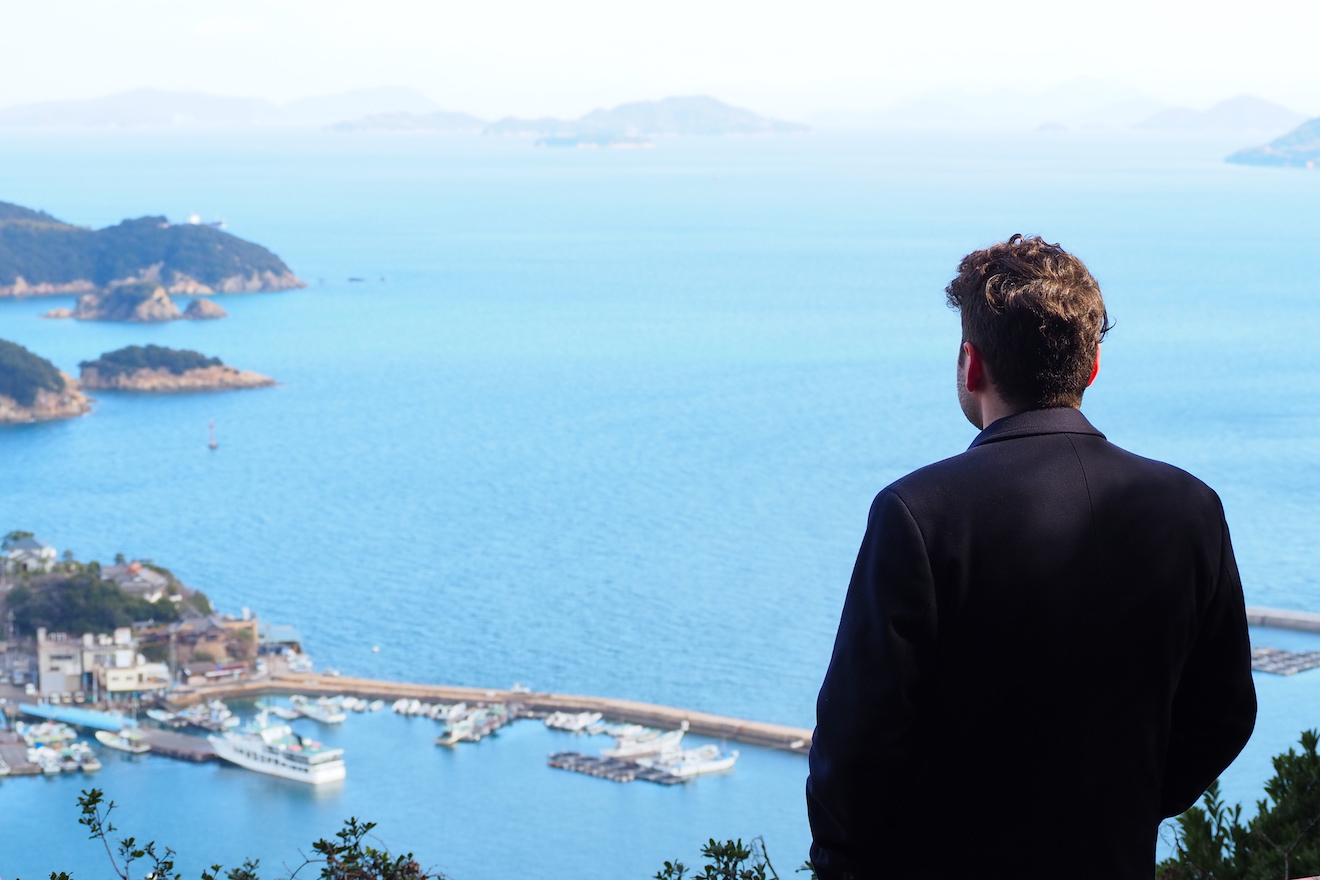 Unlike the bare expanse of water you'll find looking out onto the Japan Sea Coast or Pacific Coast, there is depth and dynamics to Tomonoura's horizon line. The Seto Inland Sea is sprinkled with lush mountainous islands. Even on a hazy day you'll be able to make out their silhouettes, creating the impression of layers of islands that slowly fade into the distance. On a clear day you'll be treated to views of Shikoku, one of Japan's four major islands, across the sea.
While Taishiden's view has to be earned, there is a rich landscape awaiting those willing to make the climb.
---
Taishiden
Address/ 1397 Ushiroji, Tomo-cho, Fukuyama-shi, Hiroshima-ken, Japan
Tel/ +91-84-982-3076
Parking/ Not available
Writer name: Andrew Deck