Any trip to Tomonoura should include a stop by the historic Tomo Port at sunset. Orange and red hues reflect off the waters of the Seto Inland Sea, casting the docking bay and cobblestone streets of Tomonoura's old town in warm light. The symbol of Tomonoura, the harbor's Joyato Stone Lighthouse, is backlight by the sunset, looking its most regal and monumental.
Once the sun has set, however, the owners of shops in this quiet seaside town often close their doors, leaving visitors with limited restaurants options outside of their hotels. If you know where to look, there is a Tomonoura nightlife worth seeking out. In place of the wafu (Japanese style) and washoku (Japanese cuisine) of the daylight hours, Tomonoura's nightlife is gourmet, wine-fueled and decidedly European.
---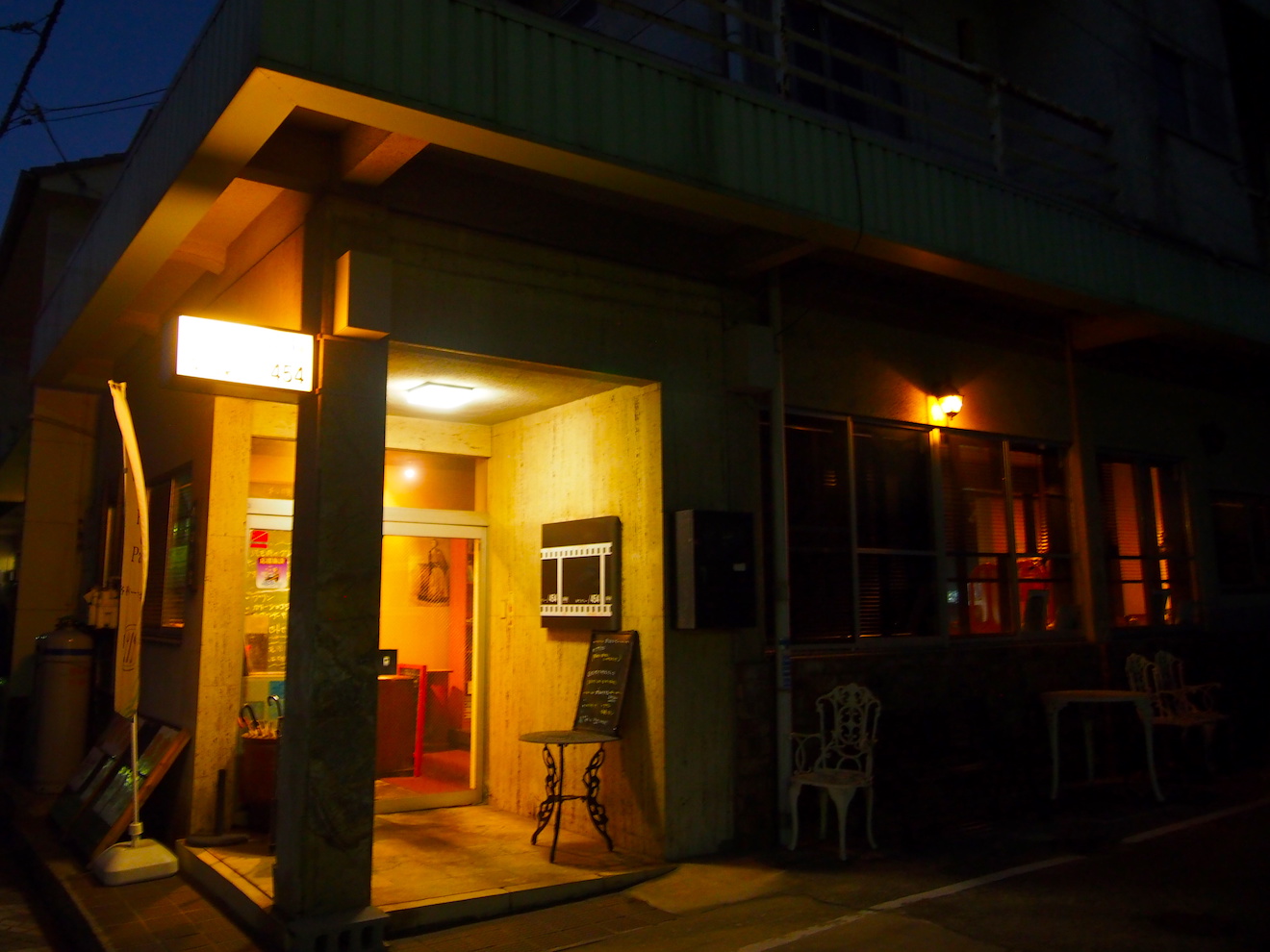 Italian Staples at Tomomachi Café / 454
Within walking distance from Tomo Port is the Italian bar and restaurant Tomomachi Café / 454. While they offer a lunch service, the shop is at its best in the evenings with its authentic Italian dinner fare and expansive cocktail menu. The owner, Mr. Kurata, is a Tomo native but received most of his culinary training in Osaka and further developed his skills in Italy. Kurata's menu brings together the traditions of Italian pasta and pizza with the flavors of Tomonoura.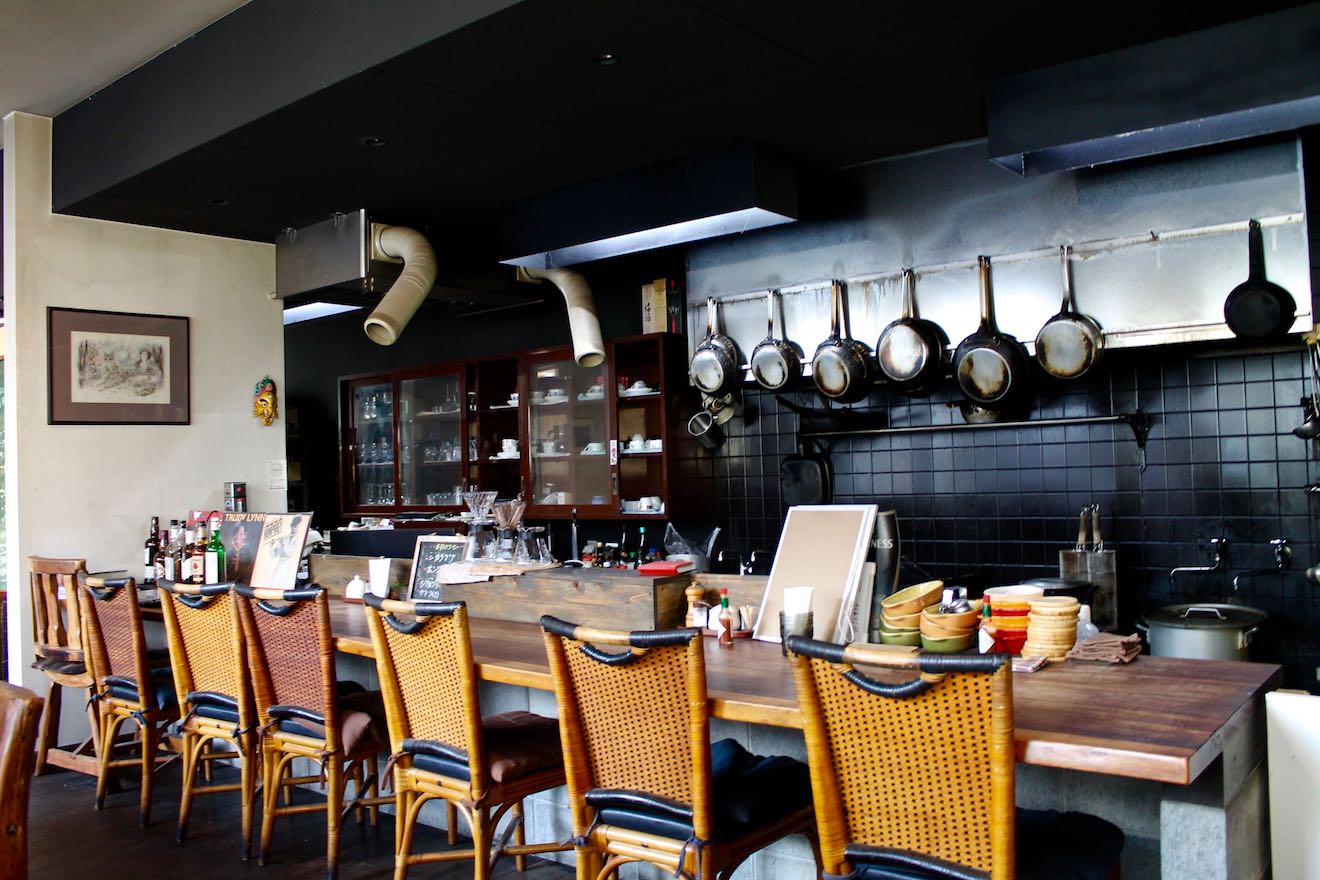 The quaint shop has casual seating, with a bright blue leather couch and wooden tables, as well as a counter overlooking the open kitchen. Bottles of hard liquor and dusty jazz records set the tone for the restaurant, as do the glass carafes on the counter, which stand ready for brewing pour-over coffee.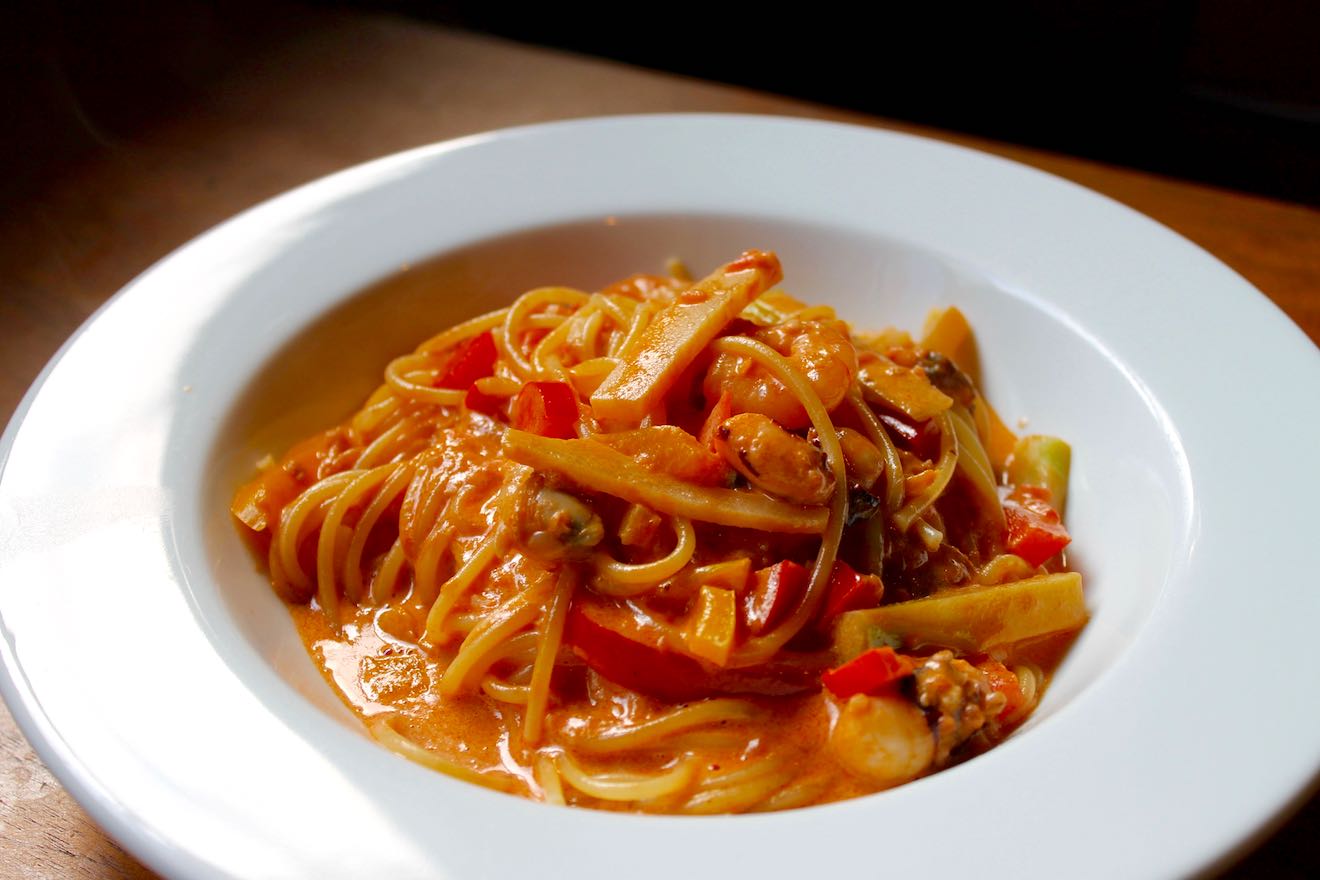 During my stop by Tomomachi Café / 454 I had the opportunity to sample some of the restaurant's signature dishes. My favorite was the seafood tomato cream pasta. Infusing a classic pasta dish with flavors from the seas of Setouchi, there were clams, shrimp and octopus swimming in Kurata's rich cream sauce. Alongside the pasta, I also tried a pork entrée paired with a hearty tomato sauce, as well as a cold-meat antipasto.
Tomomachi Café / 454
Address/ 454 Tomo, Tomo-cho, Fukuyama-city, Hiroshima
Tel/ +81-84-982-2310
Open/ 11:30 – 15:00, 17:00 – 21:00
Closed on Tuesdays (Open if Tuesday is a holiday)
---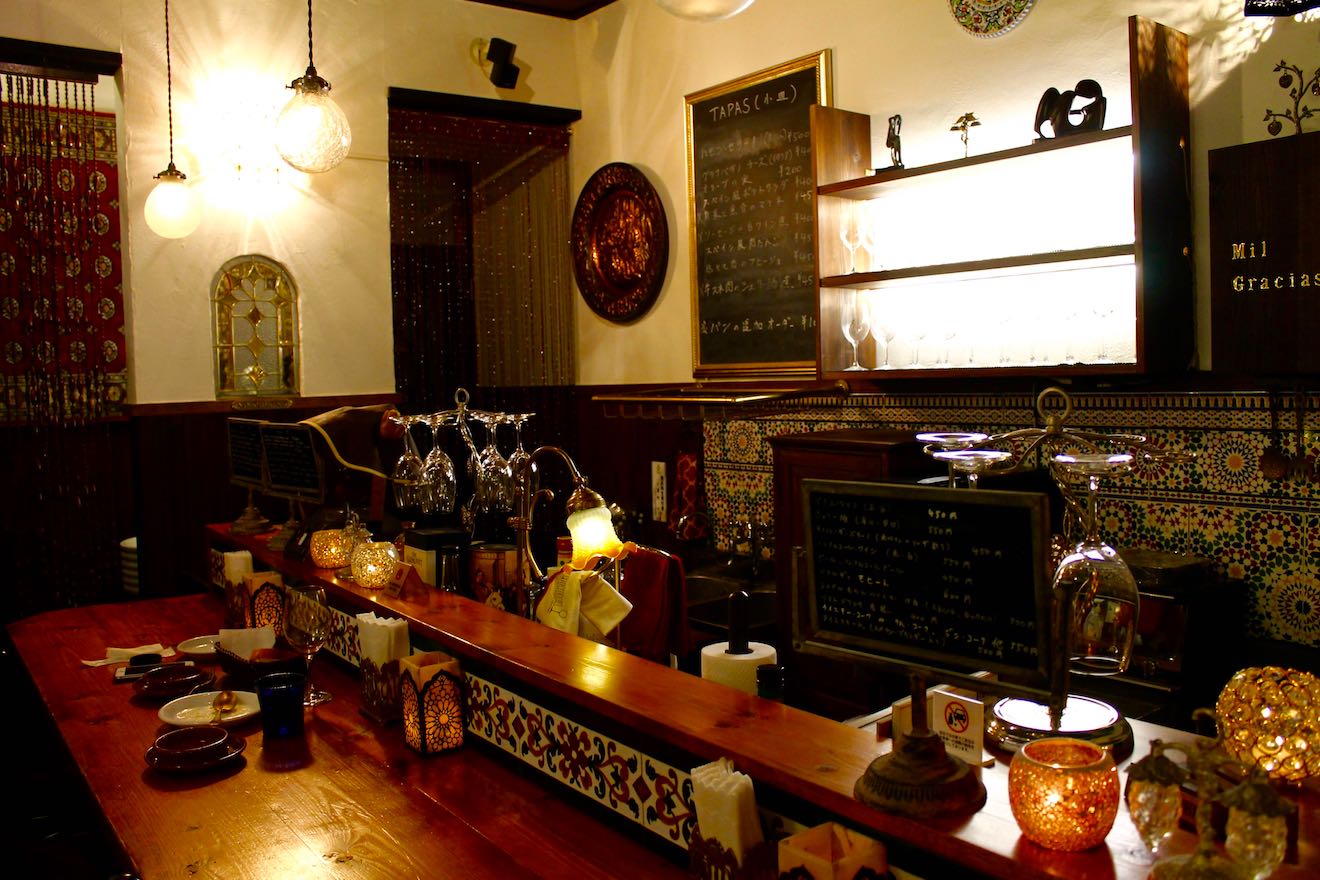 Iberian Delicacies at Mil Gracias
Several blocks from Tomomachi Café / 454, is the next joint on our nightlife tour of Tomonoura. From the outside, I didn't think much of this small home with potted flowers, a stained-glass window and a sign hanging above the door that read Mil Gracias, or "a thousand thanks" in English. Inside, I was greeted to an elaborately decorated counter bar devoted to the tastes, aesthetics and wines of the Iberian Peninsula.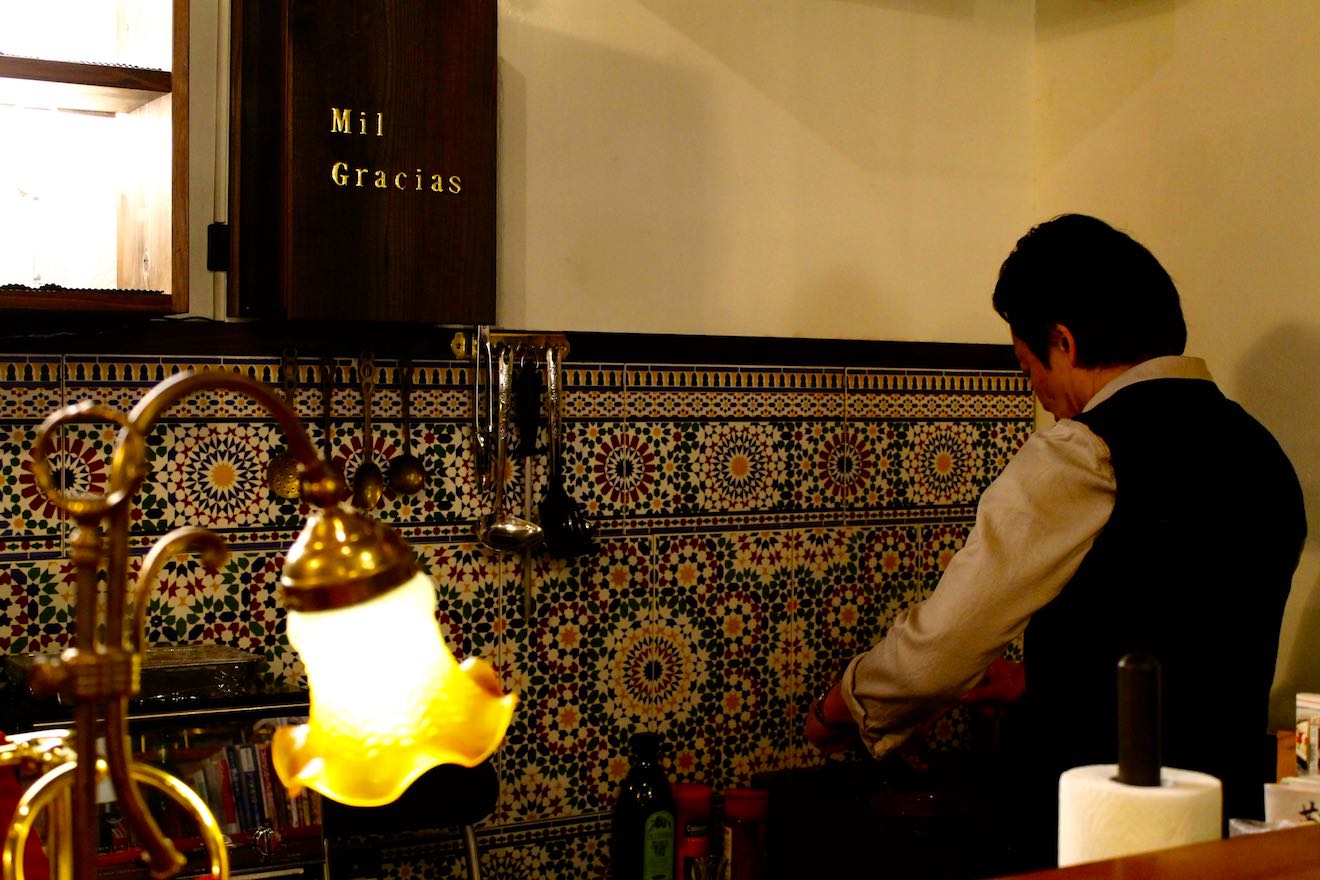 The owner and chef of Mils Gracias spent over a decade living in Spain before moving to Tomonoura with his family. Photos of his children, who were born in Spain, are hung on the walls, as is ornate furniture, tiles and works of art originating from the region.
The food felt as authentic to Spain as the design, beginning with a plate of high-quality jamon iberico, sliced in front of me before serving. The highlight was an assortment of ajillo, a dish of meat cooked in simmering garlic oil. I enjoyed one variation with chicken thigh and the other with locally-sourced botan ebi (a small and sweet shrimp). All dishes were serviced with fresh bread and a glass of the chef's recommended wine.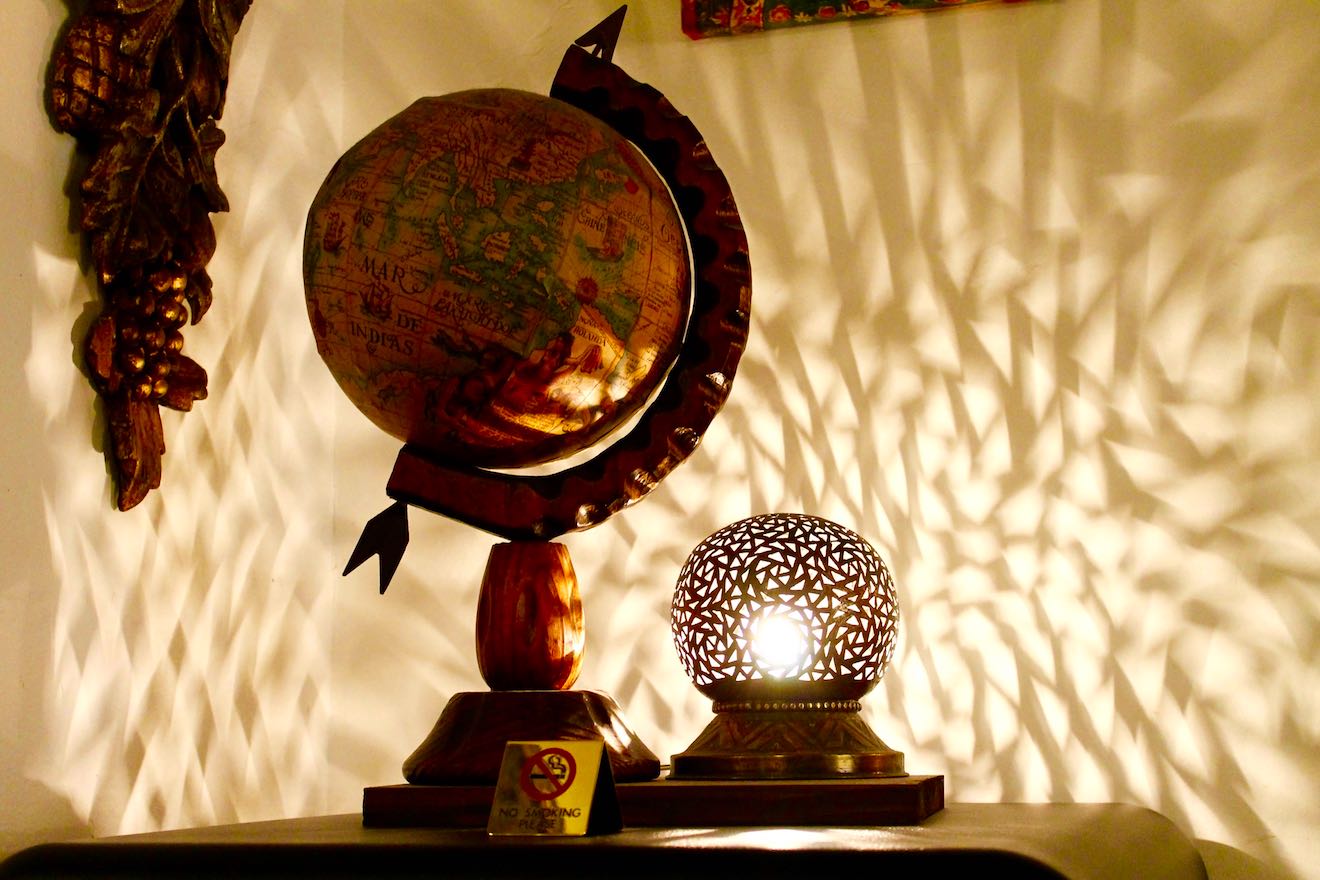 During my meal, the chef shared stories from his time living abroad, his thoughts on rural life in Japan and his knowledge of Spanish cuisine. Mils Gracias is a great spot to cap your night with an intimate dinner among locals and a few glasses of red.
Mil Gracias
Address/ 987 Tomo, Tomo-cho, Fukuyama-shi, Hiroshima
Tel/ +81-84-959-5886
Open/ 18:30 – 21:30
Closed on Mondays and Thursdays
Writer name: Andrew Deck