While Tomonoura is known for its seaside views, that doesn't always equate to beach time. Most of the Setouchi Coast is rugged and rocky. These shores are beautiful in their own way, with dramatic cliffs and dynamic rock formations making up the bulk of the region, but white sand beaches they are not. That being said, there are a few secluded bays and alcoves in Tomonoura where you can enjoy a traditional afternoon at the beach. Komurohama Beach is my recommendation. It features the charming beachside restaurant Kitchen NATTY and clear views of the shimmering Seto Inland Sea.
---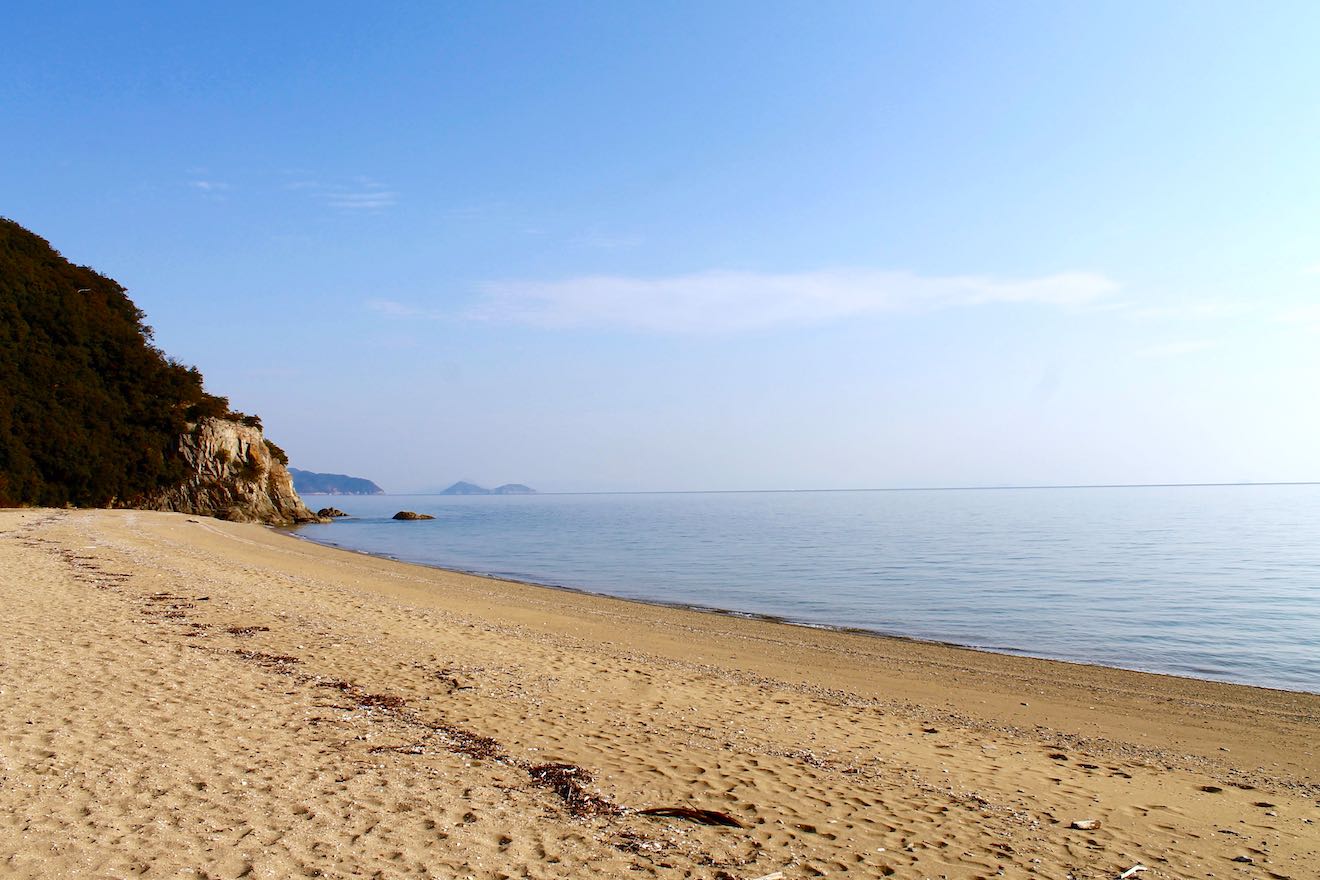 An Afternoon at Komurohama Beach
The morning of my visit was spent at sea with one of Tomonoura's sea kayaking tours, both wearing out my forearm muscles and building up an appetite for lunch. With the help of a tour guide, I paddled out to a cliffside temple, then we followed the coastline back to the main port in town. As we made our way back, I noticed a break in the rock up ahead. The coastline seemed to open up onto a small isolated beach. From my kayak I could make out one-man sailboats stored on the sand and a beach shack with a patio covered in twisting vines and potted plants—my first glimpse of Kitchen NATTY.
It took a ten-minute car ride from downtown Tomonoura to reach Komurohama Beach once we reached port. When we arrived, I found myself looking out at the waters I had just kayaked. With yellow sand at my feet and the horizon line framed on either side by the rocky coast, I almost appreciated the view more than I had at sea.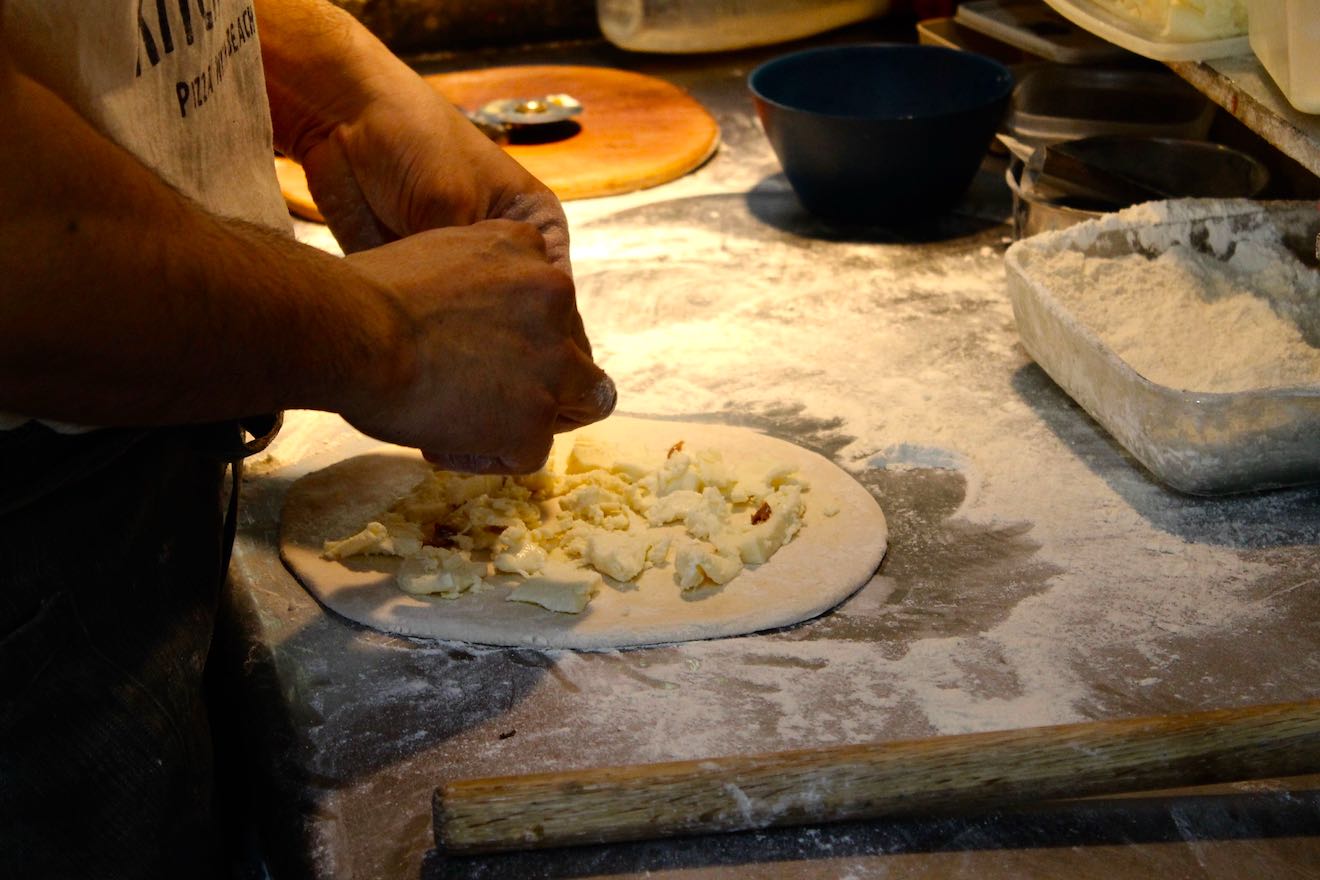 The chef at Kitchen NATTY, Tanaka-san, explained that Komurohama is one of the most popular hangout spots for locals on a summer afternoon. Aspiring sailors take their chance setting out to sea, thanks to the yacht club next door. Families and friends fill the small shore with beach towels and umbrellas, enjoying the sun, beers, and a bite at Kitchen NATTY.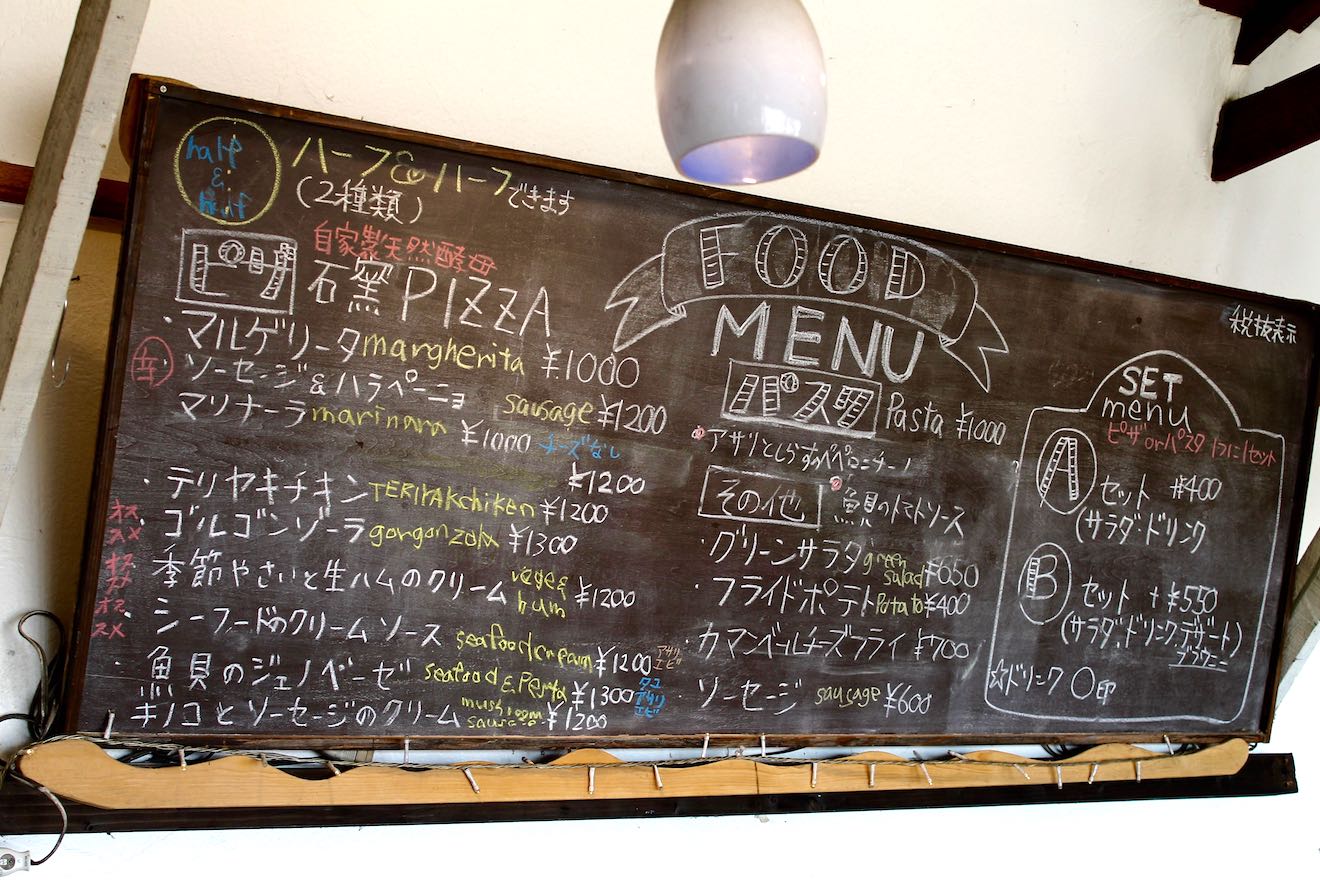 During my visit on a weekday afternoon in late January, the beach was empty and silent, save for the sounds of water lapping onto the shore. But Kitchen Natty still managed to have several customers inside who had made the drive out to enjoy the shop's popular wood-fire oven pizza.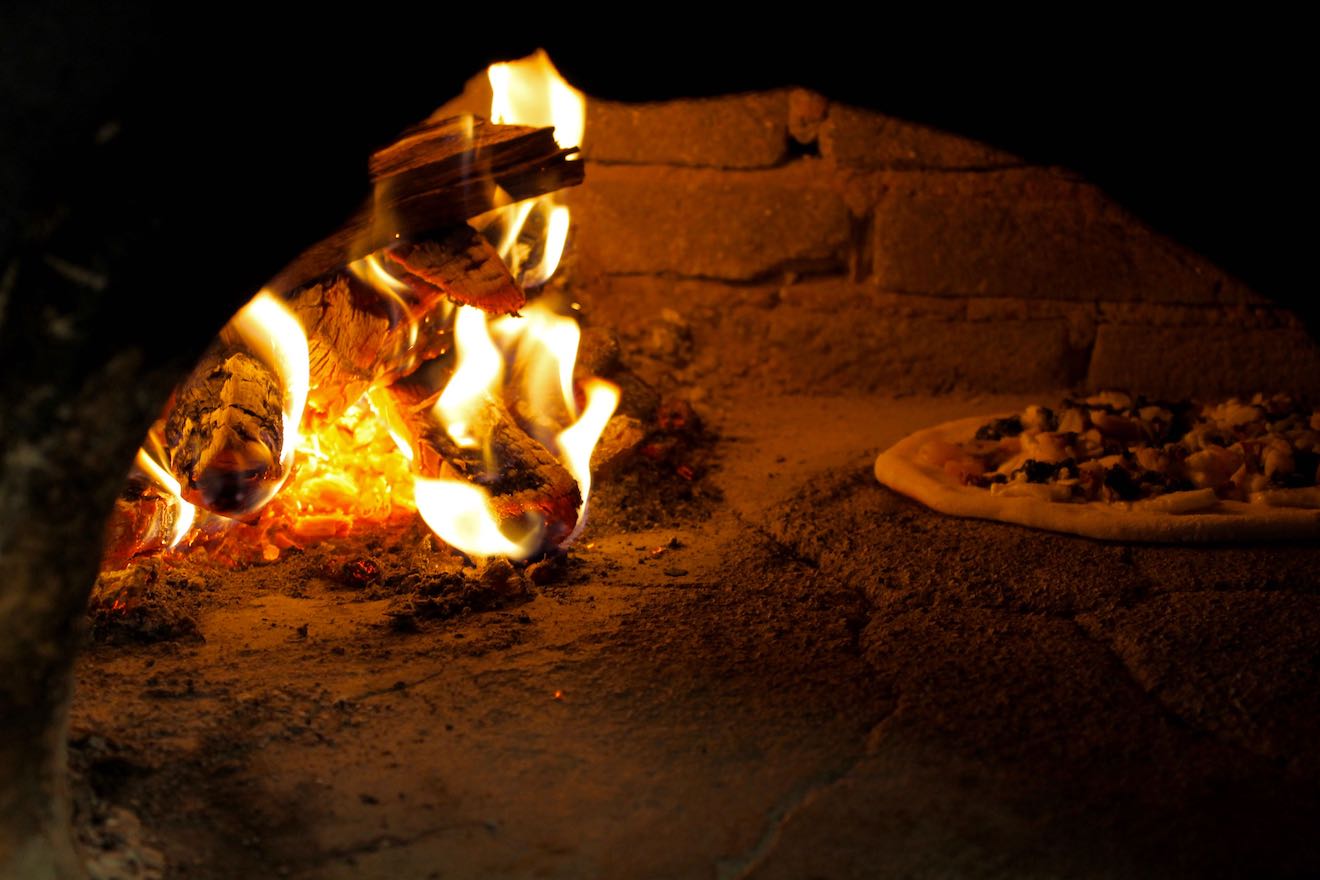 Setouchi Seafood Pizza at Kitchen NATTY
Kitchen NATTY channels a relaxed Hawaiian ambiance, with a sun-soaked patio and ukuleles hanging from the walls. The diners I saw seemed to be enjoying a casual afternoon with friends looking out onto the sea. Most everyone had ordered the signature pizza, served straight from the fire. I watched Tanaka-san at work and chatted with him as he prepared my meal. He shared the history of the shop and reminisced about his time in Italy, all while working the dough, sprinkling on seafood toppings sourced from local fishermen and sliding the finished pizza deep into the oven.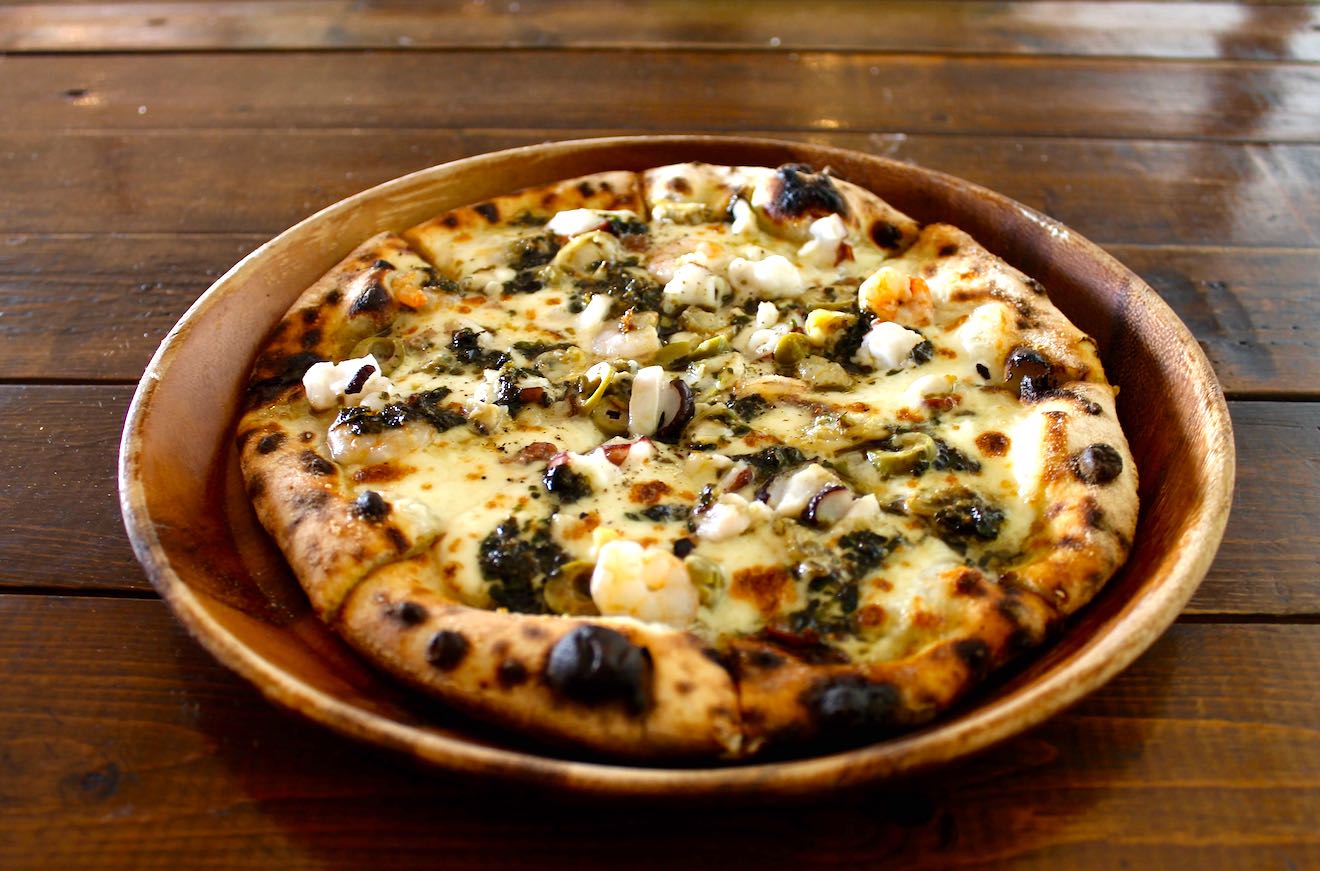 The finished seafood pesto pizza had a deliciously crisp crust and managed to balance an unexpected assortment of tastes from the Setouchi Region, including shrimp and octopus. Alongside the entrée, I sampled a green salad topped with bright pink watermelon radish, and a refreshing house-made lemon soda.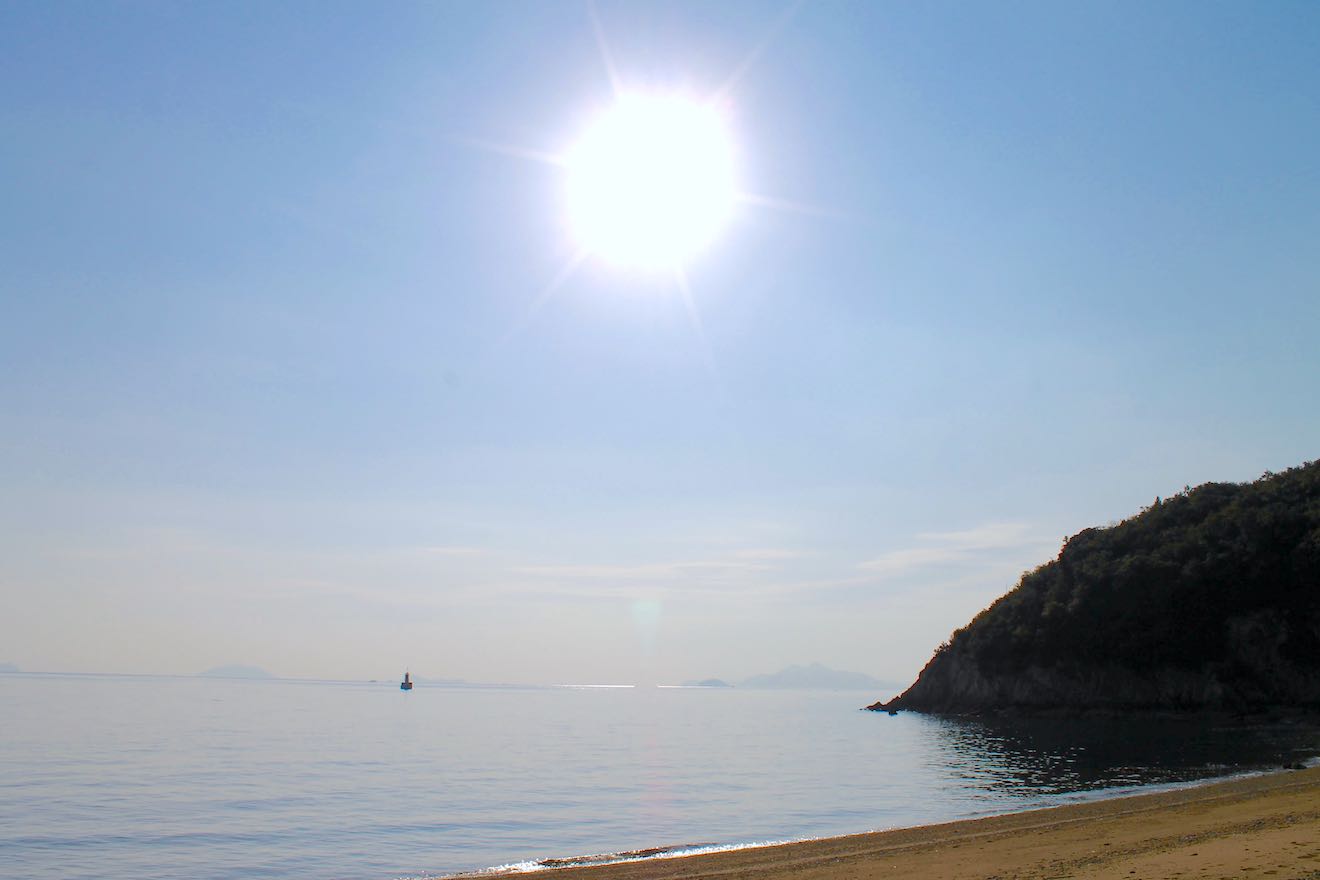 After my meal I stepped out onto Kitchen NATTY's patio. My hunger pains from earlier in the day had been more than satiated. I sat on the quite beach for a moment, taking in the sights and sounds of Setouchi.
---
Kitchen Natty
Address/ 2693-2 Ushiroji, Tomo-cho, Fukuyama, Hiroshima
Tel/ +81-84-982-3710
Open/ 11:00 – 18:00 (L.O. 17:00)
Regular Holidays/ Closed on Tuesdays. Closed on Mondays from October through the end of March.
Parking/ Available
URL/ https://www.facebook.com/KitchenNatty/
Writer Name: Andrew Deck