Tomonoura, at Fukuyama city in Hiroshima Prefecture, a port town located on the middle along the coastline of the Seto Inland Sea, has vast and rich sea where many migratory fish gathers following the current. Around when cherry trees are in bloom, sea beams in vibrant return to Tomonoura for egg-laying. Locals invented large-scaled and unique fishing style "Tie up sea beam netfishing method" which was born in early Edo Period in Tomonoura.
Every May visitors can observed the "Tourism Sea beam netfishing" that represents the traditional fishing style, receiving a lot of tourists to witness this traditional fishing style that still remains in Setouchi on the shop. Sea beam just caught there can be on sale, so please take them home to taste fresh and flavorful one.
---

"Tie up sea beam netfishing method" invented in Edo Period
The traditional fishing method "Tie up sea beam netfishing method" inheritated to Tomonoura more than 300 years ago. In 1923, "Tourism Sea Beam netfishing" began, which turned out to be an iconic event of Tomonoura in early summer.
Then about 50 members come together to board to the ocean with 6 ships divided by 2 ship named "Director ship" and "Parent ship", 2 "Anchor ships", and 2 "Catching up ship" off to the sea.
2 ships hold the giant net which is 1,500 meter long and 100 meter wide to spread it out then chase sea beam to the net, finally bring it up quickly to catch them, then fishermen would say….."Big catch, big catch!".
After fishing, we can purchase the freshest sea beam just after the event at the port. "Tai Shibou netfishing method" is designated as Intangible Folk Cultural Property of the city in 2015.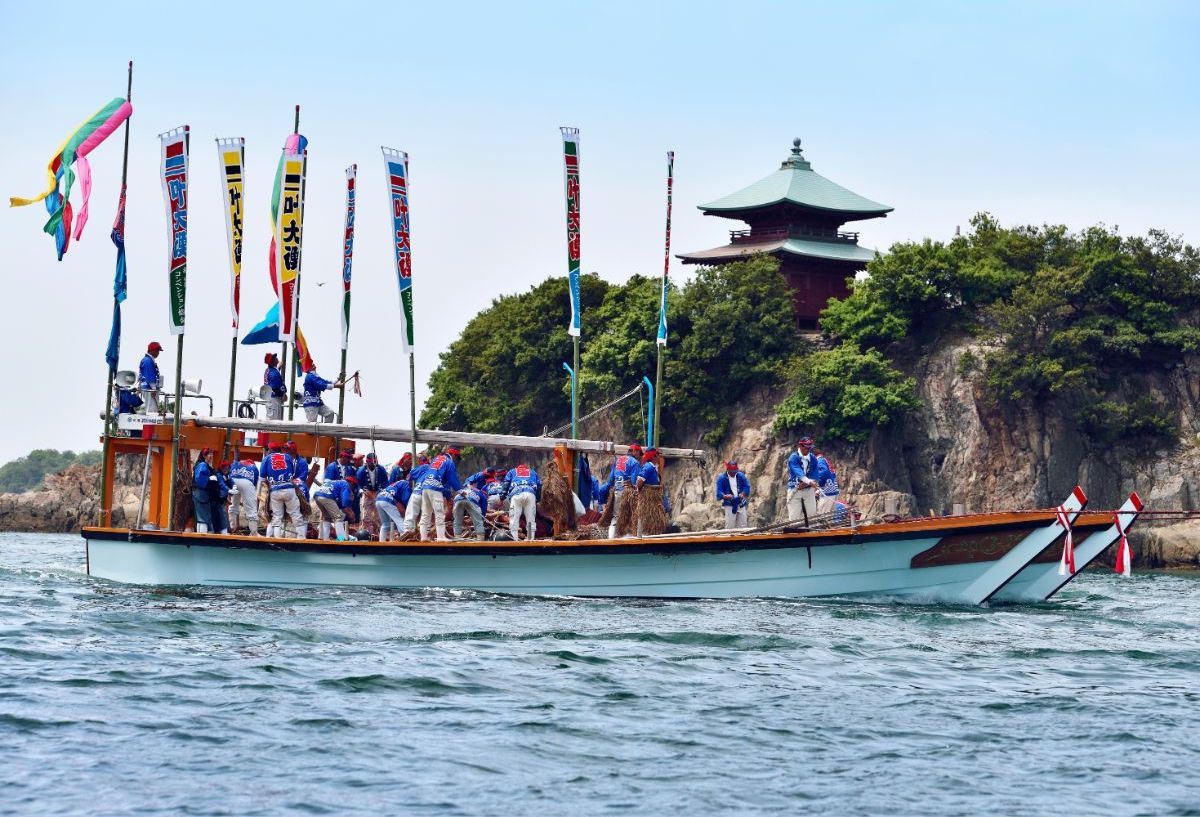 Vigorous "Big catch, big catch" call chimed to the sea troughoutly
Sea beam tourism netfishing would be so appealing for its manfulness and its gorgeous event as if it is a seaborne scroll painting.
The event is held around Bentenjima and Sensuijima Island floating opposite shore with the opening "Benten ryugu no mai" dance performed by Otohime-sama. After watching her elegant dance, fishermen wearing in blue happi are taking boats for fishing so wildly.
Then fishermen who are also fleets exclaim vigorous call, making this moment even more scenic like a seaborne scroll painting.
Rowing ships with "Yundebo-jya, Yundebo-jya" call,
Casting a net with "Aryayo-, Hoiya-desho-no-" call,
Tying it up with "Etto-, Etto-, Yahha-se-e-, Yahha-se-e-" call,
Then ending call with "Yo-choi, Yo-choi, Tairyo, Tairyo".
Visitors cannot help screaming out and wishing for a big catch.
This beautiful scenery in early summer is a piece of Tomonoura's history. With the history and the tradition of this town which are inherited with a lot of care by locals, this charming site would move us a lot with appreciation.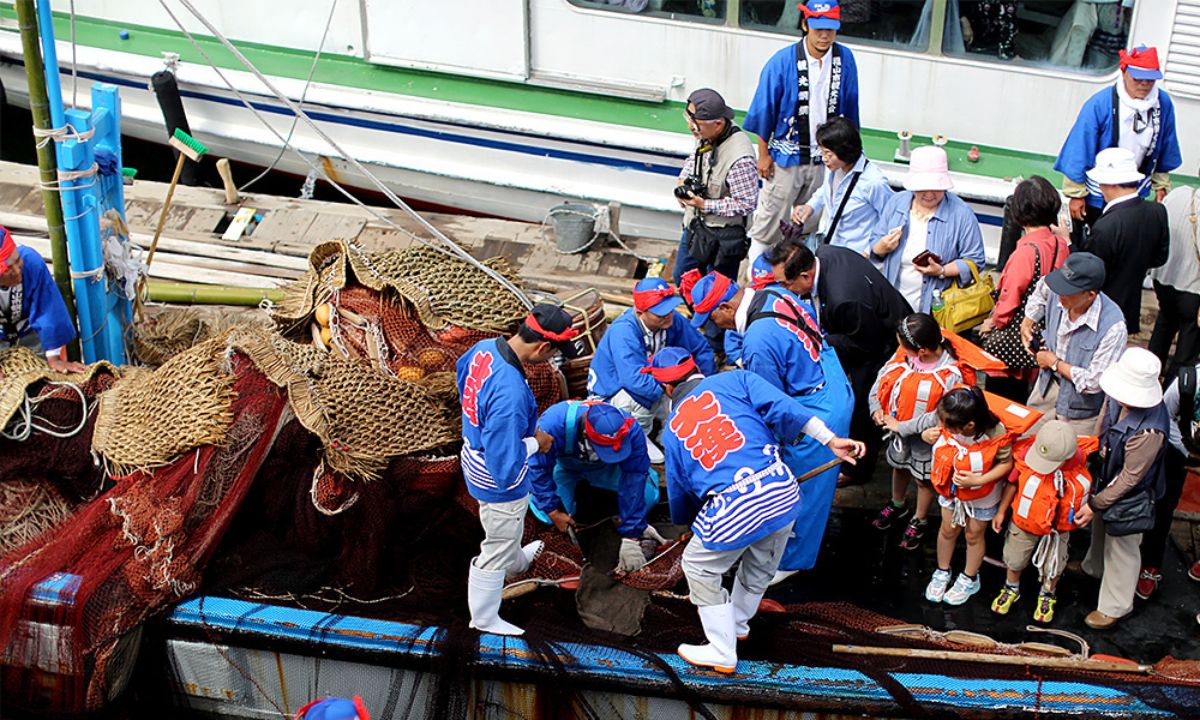 Ship turns out a pop-up store selling sea beam!
"Tourism Sea beam netfishing" takes for about one month every May. Fiest take a ferry to Sensuijima Island to have a sightseeing cruise to take a closer look for this event. If you wish, you can try to pull up the net by taking a "Parent ship" by lot. Do not hesitate to take a chance. For admission fee, it costs 2,800 yen for adult and 1,400 yen for elementary student or junior high school student (The admission pass including a bus ride from Fukuyama station is also available).
After watching the event, they also organize a historical site tour of Tomonoura for about one hour, take a leisurely stroll observing mountain ranges in lush green with vast sea in blue.
鞆の浦観光鯛網|福山観光コンベンション協会
http://www.fukuyama-kanko.com/travel/taiami

Sea beam cuisine – local cuisine in Tomonoura
When you visit Tomonoura, do not miss the local speciality which is sea beam cuisine, such as "Sea beam somen noodles" made with noodles and sea beam into the soup stock taken by sea beam, "Sea beam rice" is another speciality which steams sea beam with rice on top, or some tapas plate with stewed sea beam head. You can try several restaurants offering us sea beam cuisine, hope you will enjoy tasting this elegant taste.